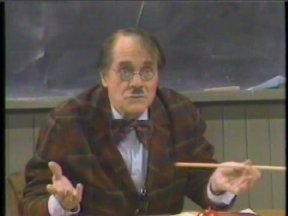 Those of us from a certain generation here at Teacher's Brunch HQ in soggy Auburn Hills, MI are mourning the passing of a defining actor from our youth (if we had cable tv, of course).
We might not have known his name, but Les Lye,
who passed away Tuesday
, portrayed nearly every adult male on the Nickelodeon sketch show
"You Can't Do That On Television."
At its best, "YCDTOTV" was about a lot of different teenage anxieties--divorce, dating pressures, drug use, and school issues. Les Lye, in his role as the everyday antagonist against the teenage heroes, represented bosses, teachers, parents, and just about every other authority figure you might imagine.
As kids growing up watching Lye's work, we imagined going up against him, and that vented our youthful frustration we experienced in real life.
Something about Lye's characters, though, always made us feel safe in an odd way. Like as bad as our parents were that day, or our teachers, or our bosses, they were NEVER as bad as the guys on "YCDTOTV." And Lye infused each character he played with a back story that we didn't really understand at the time, but appreciate as we look back. Without getting too arty about a show that included loads of flatulence jokes and green slime, Lye exuded
pathos
.
That said, Lye's characters were just good fun (when we were kids). So, a nod of the cap to him and his work. Let's hope he doesn't have to eat at Barth's in the sky.